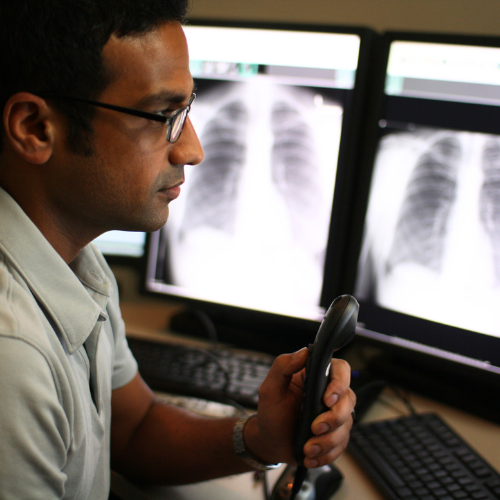 Hiring our first physician in 2020, LucidSolutions™ has grown to more than 70 teleradiologists reading 500,000+ studies annually.
As the trusted resource for delivering best-in-class radiology services and superior patient care, LucidSolutions™ taps into the revolutionary power of LucidHealth's RadAssist® proprietary technology and an expansive network of subspecialized radiologists. We offer a clear path forward for specialized patient care, rapid turnaround times, and onsite affordability without compromising quality.
Through a unique marketplace model, LucidSolutions™ provides a fully integrated subspecialized reading solution supporting

remote-based diagnostic reading services

, as well as

coverage options for onsite patient care needs

.
National Leaders in Teleradiology
LucidSolutions™ teleradiologists provide subspecialized care 24/7 - and with a full team of clinical operations specialists supporting them behind the scenes, you can expect best-in-class service around the clock.
LucidSolutions™ taps into the smart worklist technology of RadAssist®, LucidHealth's proprietary technology. By prioritizing STAT cases in our workflows, you can expect rapid turnaround and expert reads when you need them most.
Ensuring excellence in care starts with providing for the well-being of the team. LucidSolutions™ offers flexible scheduling options, partnership track, and national leadership opportunities for radiologists joining our growing team.
Do you need onsite coverage in addition to teleradiology services? Through our unique marketplace model, we can customize remote reading and onsite options to address your needs today while working with you to anticipate the needs you'll face tomorrow.
Request info on our services
Our business development looks forward to talking with you.